Baker High School

Lionspride Communication Archives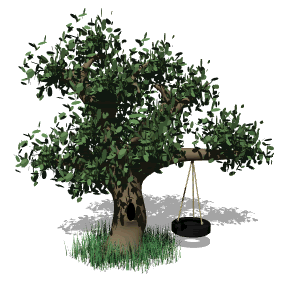 February 26, 2017

Hello LIONS!
Okay ... continuing our communication teamwork #3.... :>

1. Upload Yearbook and Other Photos to Your Profile!
Click here for How-To for your Yearbook Photo!
Click here for How-To on your Other Photos!

2. Lion Forum Info!
The purpose is to get you acquainted with the Lion Forums and able to glean benefits they offer you.
a. First of all - let's define the Lion Forums: They are a group of "communication or message" forums where LIONS can post messages and then other LIONS come along - read them and reply...... (like Facebook... postings....)
b. When you are logged into our site, look on the TOP MENU of your screen. Notice the LION FORUMS menu selection. Click on it.
c. This brings you to a list of the FORUMS in our "LION FORUMS". We have created various FORUMS, different subjects and some archives....... The major "every day" discussion ones are located under LION DISCUSSIONS...... Click here or on any you'd like to browse through (LionsPride Communication Teamwork!) - read entries and click on REPLY and respond to some or all of them!
d. Under each Forum, there are Topics which have been created to further "break down" the subject into a more detailed level.... Generally there is an Introduction Topic that explains how the Topics are generated ...... gives guidelines....
e. HOW TO ADD PIZZAZ TO YOUR TEXT!
(1) While in a message, notice the Icon Menu at the top of the message you are creating.
(2) Focus on the second row from the top icons. You'll see B for Bold, I for Italicize, U for underline, S for strikethrough, and you can view/use the others by lightly placing your cursor over each one....
(3)The third row contains Font choices, Font Sizes, Font Color, Highlight colors, and spellcheck.There is also a YouTube link where when you click it you receive this window:



As it states you can copy in the URL or embed code YouTube provides and click OK. Of course, you can write in under the video in the message if you want to....

f. Once you click into the LION FORUMS and start browsing around, the mystery dissolves and you'll feel right at home! :> Scroll to the bottom of a page and you'll see where you can subscribe to the whole Forum or just to a particular THREAD of the Forum.
g. If you have any questions, please go to our "LIONSPRIDE COMMUNICATION TEAMWORK" Forum, read, and reply to ask away!
3. Photo Galleries
You'll notice on the first group of Left Menu selections .... All Class Reunion 2014, Lunch w/Lions Photos, Baker Annuals, etc... These are constructed in "Photo Galleries". If you ever have a Class Reunion (or any Class event...) and want to DISPLAY and SAVE your Memory Photos, let me know and I'll setup a gallery for you in BHS Reunion Photos. Once created, anyone who took photos can upload them.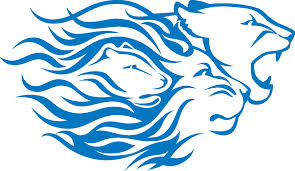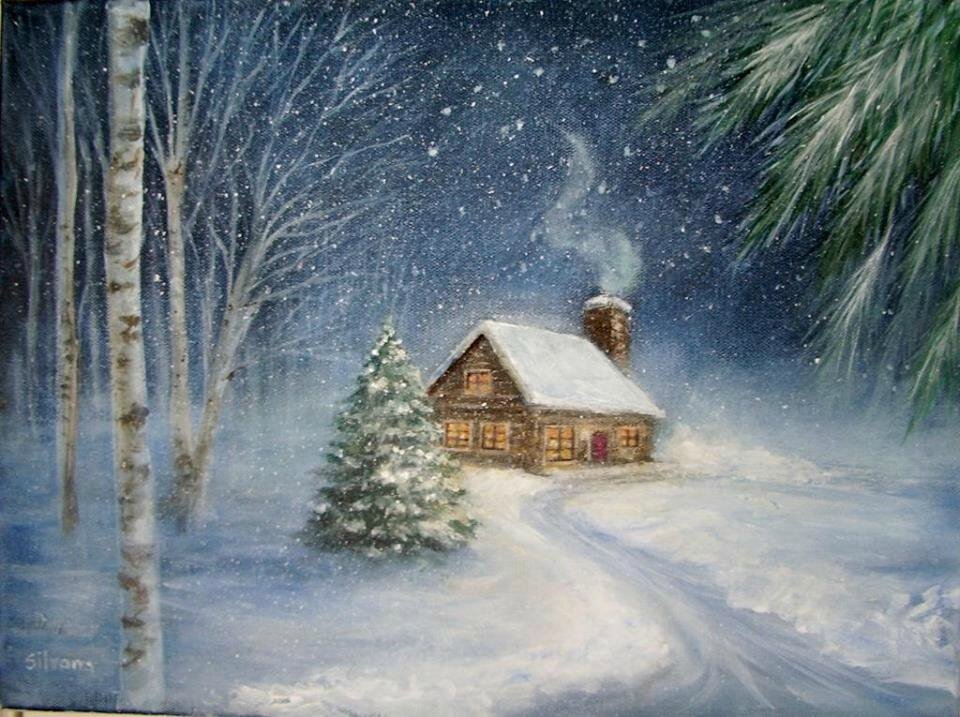 2-15-2017 Communication #2

1. Lionspride Communication Archives
Look for these on Lionspride's Left Menu selections - entitled: "Lionspride Communication Arch". The most current archived will be at the top.
2. Loss of Lion:(
a. If you want to be notified when a Baker Lion passes away, login to Lionspride, click on
IN MEMORY tab on the top menu and scroll down until you see and Click where it indicates below:
If you want to be notifed when a Lion passes,

b. If you know of a Lion who has passed away, please let us know and once we receive it we will create an IN MEMORY page for them. Click on the IN MEMORY tab and scroll down until you see below and click on "let us know" below:

If you are aware of a LION who should be added to this IN MEMORY page, please let us know.

and you will see a self-explanatory fill-in form appear. Please fill out as much info as you possibly can and if you know the location of or have a copy you can send of their obit email it to Lions.Pride@Live.com

3. I see on some Lion Profiles, folks can leave comments for
the Lion. What if a Lion doesn't want public comments left?
The presence of Lion Comments function is solely under the control of the Lion. If a Lion doesn't want comments posted that others can read, he or she can simply deactivate the Comments feature at the bottom of the Edit Profile page.

4. Let's cover a bit more about Edit Profile page. Here is a print screen of the last section you'll see when you select to "Edit Profile" under your "Member Functions" menu heading: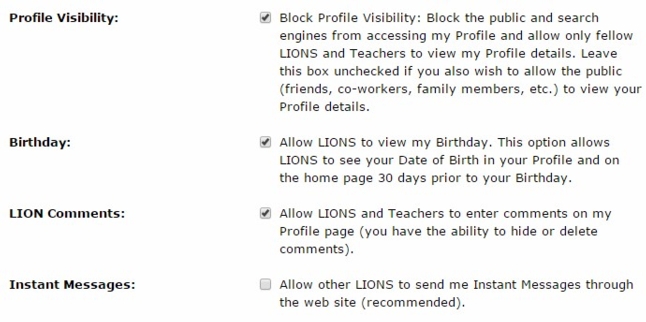 a. Profile Visibility:
This one is VERY IMPORTANT. IF you leave it unmarked, everyone in the world who does a search on your name can read your profile and select to send you emails. We've had this happen to some folks - NOT GOOD! The description sounds a bit "friendly" .... allow the public (friends, co-workers, family members, etc... unfortunately, its the etc that concerns me.....). PLEASE keep this marked. Thanks!
b. Birthday:
As you can see on the description, IF you want your birthday to display on the Home Page - you'll need to mark it. Now this doesn't manage the Profile Subscriptions Birthday Notifications ... You will see/receive notices for other folks' birthdays but not your own.
c. Lion Comments: (covered in paragraph 3. above)
d. Instant Messages:
Self-Explantatory. (I am interested in knowing if any Lion uses the "Instant Messages"? Thanks!)
2/9/2017
1. Lionspride Subjects to Cover this time:
a. Searching for Classmates on the site.
(1) Click on LION PROFILES to catch up on ALL LIONS who have made the time to share their lives so other Lions are now up-to-date on whatz going-on with them! And you can send a message to them!
(2) You'll see a Search tool. Type in a Lion/Classmate's name or portion of the name and the site will look for a match. Then you can click on the match.
(3) You'll also see a list of all the Class years. If you know the Class Year of the person you are looking for, click on the Class Year. Look through the ClassList for their name and click on it.
(4) This opens their profile so you can read about them. At the top of the profile is a link to send them a private message. Scroll to the bottom of the profile page and you can add a comment to their profile that they can see and anyone else who visits their profile. They can comment back to you.
b. Profile Subscriptions and WHEN you receive Site Communications (i.e. emails, messages).
2. BHS Alumni Association,Inc. (For other info about the Association click HERE):

Receive Many Questions About - Paying by Check.
(1) You can join/pay annual dues online via credit or debit card at $21 (one dollar site processing fee) OR by check at $20.
(2) If by check, you still login to Lionspride and open "BHS Alumni Association, Inc" (left side of your screen) and follow the instructions to fill out the online form for check payment. It will tell you who to make the check out to and where to mail the check within 7 days of the current date. We need the online form (it is emailed to you) so we have a form to "marry up" with your check.