Baker High School
BAKER LIONS LOTL Photos
Hi LIONS!
Looks like we all enjoyed LOTL! Yes, had some rain here and there but we had lots of shelters up and Baker had a bit of porch shelter also. :> I always love to see all the smiles, hand shaking, and hugs going on within classes and between classes! Lions walking around - checking in on each other - meeting Lions they haven't met before. Cameras flashing and Baker memories being shared! Cool!
Linda Lucas Stratford '70, Paige Lybrand Thomasson '70, Claudette Askew Billings '70 and Pete Mailman '74 formed a BHS Souvenir Team and sold many souvenirs during LOTL to the tune of $315.00. They are donating this money to our alumni association (LEO) in memory of the LIONS who have passed away in the Classes of 1970 and 74. Very special - thanks.
Councilman Wayne Anthony joined us and presented us with the Baker High School Day Proclamation. View the video below:>
Robert Willis (Classmate of 1962 and BHS Faculty) presented LOTL working LIONS with "APPRECIATION AWARD Plaques" (as you viewed in the video).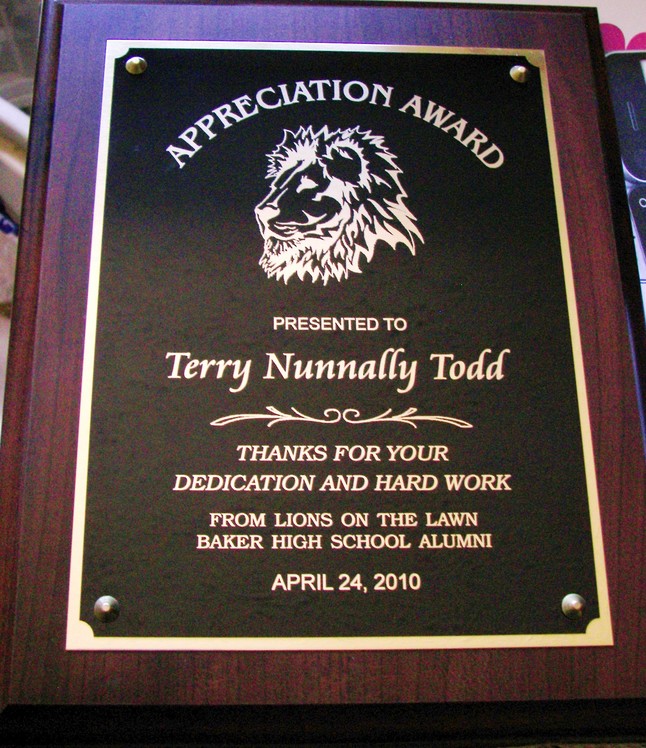 Robert presented awards to John Crimmel '70, Roy "Sunshine" Cook '68 (had to leave early), Ismael Nazario '61 (and his wife, Sandye (Johnson '64), Rodney Wolfinger '69, and Ms. Terry Nunnally Todd '73. We all "happily" accepted the awards with many smiles and thanks! WOW! Thanks!:>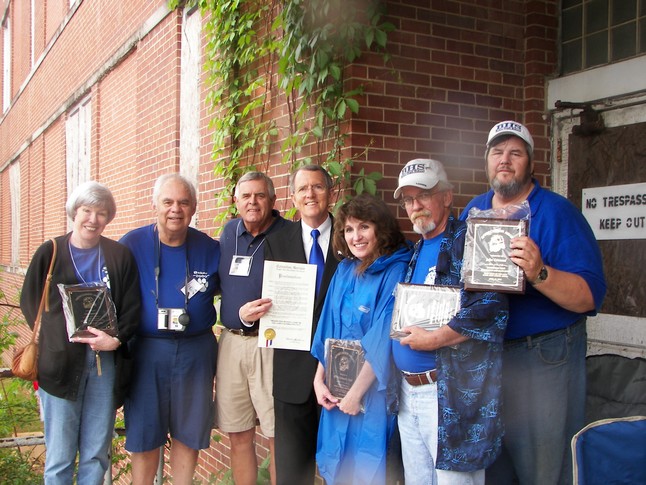 We "officially" wrapped up the day with Ish Nazario '61 leading us in singing our Alma Mater! We had a GRRREAT DAY! :)
NOTABLES:>
* Let's give a BIG ROUND of {APPLAUSE} FOR and GIGANTIC THANKS TO all the LIONS and FACULTY (oh...excuse me...they are LIONS also...pardon...)....!LIONS! who DONATED $$$ to LOTL! Totaled: $1,112.82
Class of '53: James Shierling
Class of '60: Glenn Wells (also, Faculty)
Class of 65: KC Bowland Hawks, Linda Omundsen, Gary Bender
Class of 67: Carol Williams Merrill
Class of 68: TJ Turgeon,
Class of 69: Jim Keifer
Class of 70: J. Greg Tharp, Deborah Ballew, Linda Lucas Stratford
Class of 72: Becky Pittman
Class of 74: Jo Ann King, Debbie Wilmot Santiago

Class of 80: Cynthia Swenson Hurston, Larry Swan
Class of 90: Michael Davison
Faculty: Faye Hicks Doane
Lion Classmates - couldn't determine Class Year:
Ruthann Allison, Danny Allen, April Morgan
and LEO (Alumni Assoc)!

* Thanks so much for the donations! This money paid for LOTL expenses: Porta Potties, on-the-spot for Macon Rd BBQ - credit card BBQ payments caught up a week later, and LEO-our-Lion injuries... :(
| | | |
| --- | --- | --- |
| | | |
| | | |
| | Tez Nunnally Gutman | |

29 Photos 4/25/10

| | | |
| --- | --- | --- |
| | | |
| | | |
| | Tyrene Hall Hickman | |

16 Photos 4/25/10

| | | |
| --- | --- | --- |
| | | |
| | | |
| | Debbie Woodard Ballew | |

1 Photo 4/25/10

| | | |
| --- | --- | --- |
| | | |
| | | |
| | Nancy Sabordo Harris | |

5 Photos 4/25/10

| | | |
| --- | --- | --- |
| | | |
| | | |
| | Patricia Ann Jones Davenport | |

9 Photos 4/26/10

| | | |
| --- | --- | --- |
| | | |
| | | |
| | Pam Williams Brand | |

21 Photos 4/29/10

| | | |
| --- | --- | --- |
| | | |
| | | |
| | Debbie Spidle Dansereau | |

1 Photo 5/2/10

| | | |
| --- | --- | --- |
| | | |
| | | |
| | J. Greg Tharp | |

23 Photos 5/3/10

| | | |
| --- | --- | --- |
| | | |
| | | |
| | Jim Keifer | |

9 Photos 5/7/10

| | | |
| --- | --- | --- |
| | | |
| | | |
| | Karen Brown Miles | |

5 Photos 5/19/10

| | | |
| --- | --- | --- |
| | | |
| | | |
| | Jeanne Gehm | |

1 Photo 6/23/10

| | | |
| --- | --- | --- |
| | | |
| | | |
| | Mike McCrea | |

1 Photo 12/30/10

| | | |
| --- | --- | --- |
| | | |
| | | |
| | Nancy Smith Whittenton | |

2 Photos 7/30/11

| | | |
| --- | --- | --- |
| | | |
| | | |
| | Glenn Tommy Haralson | |

1 Photo 3/10/12